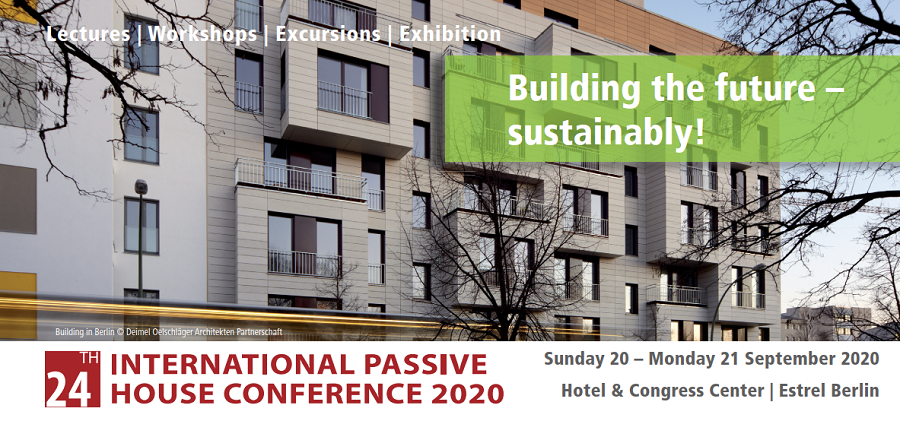 The Call for Pa­pers is now closed -
Thank you for more than 300 abstracts!
What hap­pens next?
Our Sci­en­tif­ic Ad­vis­ory Board will meet in March 2020 to choose the present­a­tions for the con­fer­en­ce pro­gramme.
The speak­ers will be in­formed from April 2020 wheth­er their ab­stract was ac­cep­ted. Once ac­cep­ted, the speak­ers have to sub­mit their writ­ten con­tri­bu­tion (6 pages) for the con­fer­en­ce pro­ceed­ings by 2 June 2020.
Fur­ther edu­ca­tion cred­it points to­wards the re­new­al of a Pass­ive House Plan­ner/Con­sult­ant Cer­ti­fic­ate will be awar­ded for sub­mis­sions se­lec­ted for the con­fer­en­ce.
Build­ing the fu­ture - sus­tain­ably
 
Ab­stracts on the fol­low­ing pri­or­ity top­ics could be sub­mit­ted un­til 2 March 2020:
Pass­ive House and Re­new­able En­ergy
Pass­ive House and Sus­tain­ab­il­ity/Cir­cu­lar Eco­nomy
Pub­lic Policy for Pass­ive House
En­ergy and cost ef­fi­cient Pass­ive House meth­od­o­lo­gies for mul­tires­id­en­tial and so­cial hous­ing build­ings
Pass­ive House and NZEB Stand­ar­ds
In­teri­or com­fort and liv­ing qual­ity in Pass­ive House build­ings
BIM and tools for Pass­ive House design
In­nov­at­ive com­pon­ents and Smart Home tech­no­lo­gies for Pass­ive House
Big (Tall) Pass­ive House build­ings
Pre-fab­ric­a­tion tech­no­lo­gies for Pass­ive House build­ings
Pre-fab­ric­a­tion meth­od­o­lo­gies for Pass­ive House ret­ro­fits
Pass­ive House ret­ro­fit con­cepts and pro­jects
Pass­ive House in emer­ging and de­vel­op­ing coun­tries
Non-res­id­en­tial Pass­ive House build­ings
Pass­ive House busi­ness de­vel­op­ment and pro­mo­tion
Pass­ive House for large scale de­vel­op­ments, cit­ies and re­gions
Train­ing and qual­ity as­sur­ance for Pass­ive House pro­fes­sion­als
Re­si­li­en­ce and ad­apt­a­tion of Pass­ive House build­ings to Cli­mate Change
Sci­en­tif­ic Con­fer­en­ce Ad­vis­ory Board
Lois Are­na, New York (US) | Bron­wyn Bar­ry, San Fran­cis­co (US) |
El­rond Bur­rell, Ka­pi­ti Coast (NZ) | Shou­kong Chen, Shang­hai (CN) |
Ma­ria Chia­ra Fail­la, Darm­stadt (DE, IT) | Wolf­gang Feist, Darm­stadt (DE)|
Franz Fre­un­dor­fer, Oberau­dorf (DE) | Pe­ter Frie­mert, Ham­burg (DE) |
Sal­ly God­ber, Ply­mouth (UK) | Di­eter Herz, Weit­nau (DE) |
Bjørn Kier­ulf, Se­nec (SK) | Hel­mut Krap­mei­er, Wolfurt (AT) |
Jo­han­nes Kre­is­sig, Stut­tgart (DE) | Wei Kuang, Darm­stadt (DE, CN) |
Lasz­lo Lepp, Inns­bruck (AT) | Jür­gen Lep­pig (Ben­jam­in Weis­mann), Ber­lin (DE) |
Math­i­as Lin­der, Frank­furt (DE) | Dirk Mobers, Wup­per­tal (DE) |
Iris Oels­chlä­ger, Ber­lin (DE) |Ste­fan Pal­lantz­as, Athens (GR) |
Mon­te Paul­sen, Van­cou­ver (CA) | Peng Men­gy­ue, Bei­jing (CN) |
An­drew Peel, Blue Moun­tains (CA) | Rai­ner Pflu­ger, Inns­bruck (AT)|
Mark Sid­dall, Dur­ham (UK) |Oliv­er Sty­le, Bar­ce­lo­na (ES) |
Burk­hard Schul­ze Dar­up, Ber­lin (DE) | Jens Schu­berth, Des­sau-Roß­lau (DE) |
Jan Stei­ger, Darm­stadt (DE) | Dra­go­mir Tz­a­nev, So­fia (BG) |
Eti­en­ne Ve­ke­mans, Par­is (FR) | Mi­cheel Was­souf, Bar­ce­lo­na (ES) |
Mat­thi­as Wohl­fahrt, Han­nov­er (DE) | Xu Wei, Bei­jing (CN)