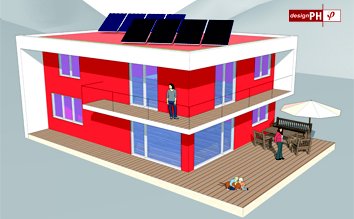 designPH basics | Wednesday, 26 April 2017 | 9:00 a.m. - 5:30 p.m.
Venue: Fachhochschule des BFI Wien, Wohlmutstraße 22, 1020 Vienna, Room: 316
This workshop addresses people that are already familiar with the Passive House Planning Package (PHPP), and want to explore the advantages of designPH, the new 3D modelling tool for PHPP.
Content of the Workshop:
Overview: How designPH works
SketchUp: Basic functions
Working with SketchUp: Input of a building model
Analysis of the building model: Optimization and adaption of relevant features
Special building types: different approaches
Prerequisites
Please bring your own laptop, OS version at least Windows 7 or Mac OS X 10.6
SketchUp should be already installed! – Detailed pre-requisites here
designPH owners, please log-in and update to the latest version …Update here
others can download and install the designPH DEMO version from www.designPH.org/DEMO_download
Office software should already be installed (we cannot provide support for Open Office)
Based on feedback from workshops in previous years and in an effort to reduce paper consumption, PDF copies of the course materials will be provided to all course participants on the day of the event.
Fees
 
Conference participant
Standard price
€240
€300
iPHA member/student discount  €30
Venue: Fachhochschule des BFI Wien, Wohlmutstraße 22, 1020 Vienna
Credit points
Pre-conference workshops can be credited as training events towards renewing your certificate.