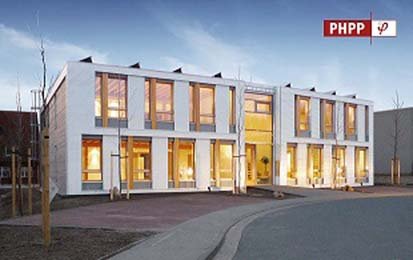 PHPP Basics (in German)
5 and 6 March 2018 | 9:00 a.m. - 6:00 p.m.
Venue: Bauzentrum München, Willy-Brandt-Allee 10, 81829 München
This 2-day workshop provides basic knowledge of the Passive House Planning Package (PHPP), the energy balancing and planning tool for efficient buildings and retrofits.
Content of the Workshop:
Energy balance calculation with PHPP
Input of areas and windows
Input of shading factors
Input of the ventilation strategy
Input of summer ventilation and cooling strategies
Data entry of domestic hot water and electricity demand
Input of buildings with renewable energy supply according to the PER system and evaluation of buildings with the Passive House classes
Prerequisites
Please bring your own laptop.
OS-version Windows 7 or Mac OS X 10.6 or higher are recommended
Excel 2007 or higher for Windows or Excel 2011 for Mac or higher should be installed!
(unfortunately, we cannot offer support for Open Office)
To participate, a license of PHPP 9 is not required.
 
Based on feedback from workshops in previous years and in an effort to reduce paper consumption, PDF copies of the course materials will be provided to all course participants on the day of the event.
Fee

 
Conference participant
Standard price
€450
€540
iPHA member/student discount  €30
 
 
 
Credit points
Pre-conference workshops can be credited as training events towards renewing your certificate.