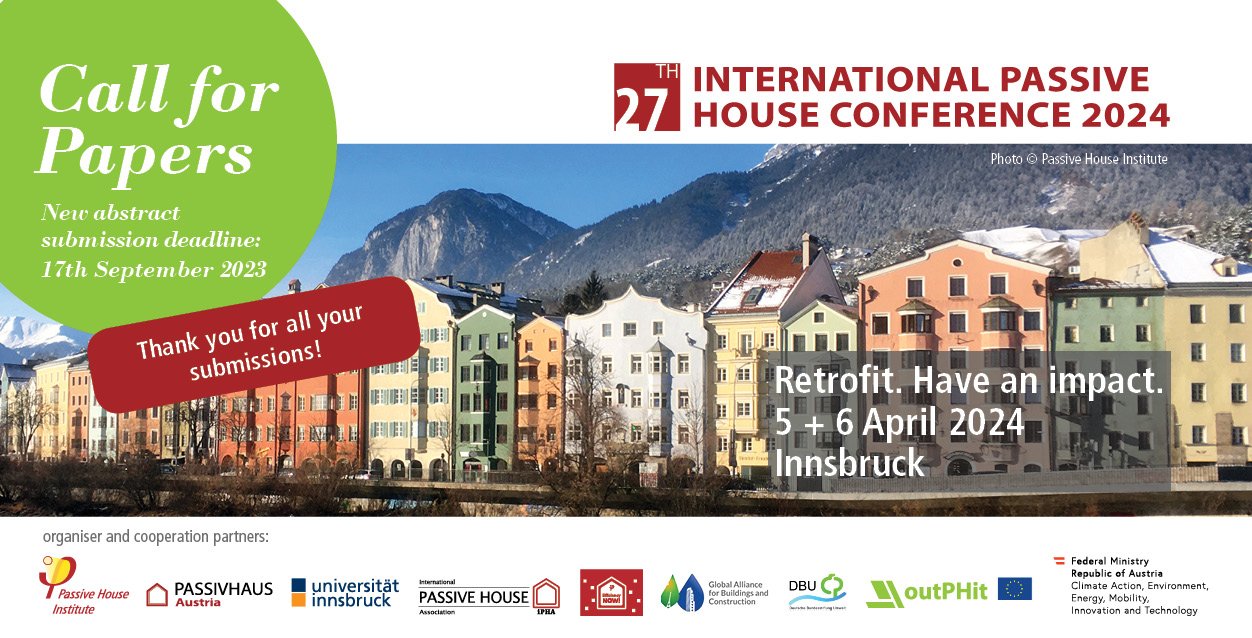 The Call for Pa­pers is closed –  thank you for nu­mer­ous sub­mis­sions!
Be­come a speak­er at the 27th In­ter­na­tion­al Pass­ive House Con­fer­en­ce 2024
Come to the beau­ti­ful city of Inns­bruck on 5th and 6th April 2024 and share your pro­ject ex­per­i­en­ces, re­search find­ings, new tools, and in­ven­tions with a keen audi­en­ce of pas­sion­ate Pass­ive House ex­perts from all over the world! Join us in tak­ing an­oth­er step to­wards en­ergy ef­fi­ciency!
Top­ics
En­ergy ef­fi­ciency NOW!
PH / En­erPHit for city dis­tricts
Pre­fab­ric­a­tion for PH and En­erPHit pro­jects
En­ergy ef­fi­ciency and re­new­ables
PH con­cepts un­der chal­len­ging cli­mat­ic con­di­tions
Keep­ing cool: pass­ive and act­ive cool­ing solu­tions
Highly en­ergy-ef­fi­cient non-res­id­en­tial build­ings
Tools and meth­ods for im­ple­ment­a­tion
Heat pumps and split units for deep ret­ro­fits
Highest en­ergy ef­fi­ciency for staged ren­ov­a­tion pro­jects
Guidelines for your ab­stract sub­mis­sion
Please pre­pare a Word doc­u­ment (Arial, 11pt., stand­ard mar­gins, in Eng­lish or German) and write an ab­stract of max. 3,000 char­ac­ters in­clud­ing spaces. Dur­ing the sub­mis­sion pro­cess, you will be asked to copy and paste your text in­to a des­ig­nated dia­logue box. Sub­se­quently, you may up­load up to 3 pho­tos and/or graphs in a sep­ar­ate up­load field if you wish.

Please de­scribe your pro­ject and pay par­tic­u­lar at­ten­tion to the fol­low­ing as­pects:
o    Did you face par­tic­u­lar chal­lenges (e.g.: Was it a his­tor­ic build­ing? Did you have to use in­teri­or in­su­la­tion?)? Which strategies did you choose to over­come
      these chal­lenges?
o    Which les­sons have you learned from the pro­ject? What would you do dif­fer­ently if you could re-start the pro­ject?
o    If avail­able, please in­clude feed­back from the ten­ants / users
o    If avail­able, please provide the (ex­pec­ted) yearly run­ning costs and the (ex­pec­ted) in­vest­ment pay­back
o    If ap­plic­able, please high­light the way you used new, in­nov­at­ive strategies com­pared with the busi­ness as usu­al for your par­tic­u­lar build­ing type in the
      coun­try where the pro­ject is loc­ated
o    Please give as much de­tail as pos­sible and avoid vague in­form­a­tion as well as un­answered open ques­tions to fa­cil­it­ate the se­lec­tion pro­cess
Im­port­ant in­form­a­tion for ap­plic­ants
The sci­en­tif­ic Ad­vis­ory Board for the 27th In­ter­na­tion­al Pass­ive House Con­fer­en­ce will ev­al­u­ate your ab­stract.

If you are se­lec­ted as a speak­er, we ask you to con­trib­ute to the 27th In­ter­na­tion­al Pass­ive House Con­fer­en­ce by do­ing the fol­low­ing:

1)    Giv­ing a 20- to 25-minute pre­sent­a­tion (fol­lowed by a short group Q&A at the end; us­ing a Power­Point slideshow is re­com­men­ded)
2)    Sub­mit­ting a 2-/4-/6- page art­icle for the di­git­al con­fer­en­ce pro­ceed­ings (you de­cide which of these lengths but please no un­even page num­ber!)
3)    At­tend­ing the con­fer­en­ce in Inns­bruck, Aus­tria
We are look­ing for­ward to wel­com­ing you as a speak­er in Inns­bruck to share know­ledge, have fruit­ful dis­cus­sions and get the chance to vis­it suc­cess­ful Pass­ive House and En­erPHit ret­ro­fit pro­jects in Inns­bruck and the sur­round­ing area. All lec­ture ses­sions will also be re­cor­ded and will be made avail­able on de­mand after the con­fer­en­ce. To en­sure that the con­fer­en­ce runs as smoothly as pos­sible, we kindly ask you to se­lect one speak­er (with max. one co-speak­er) who will give the present­a­tion on be­half of all au­thors (if ap­plic­able).

We are very much look­ing for­ward to your ab­stract sub­mis­sion(s)! Please make sure to fol­low the guidelines to in­crease your chances of be­ing se­lec­ted. You can ex­pect to re­ceive an email no­ti­fic­a­tion with the res­ult from us in au­tumn 2023.

If you have any ques­tions or con­cerns re­gard­ing the call for pa­pers, please do not hes­it­ate to con­tact us at con­fer­en­ce@passiv.de, us­ing the sub­ject line "Call for Pa­pers 27int­PHC".
We look for­ward to cre­at­ing an in­spir­ing pro­gramme for the 27th In­ter­na­tion­al Pass­ive House Con­fer­en­ce in Inns­bruck, Aus­tria, with you!